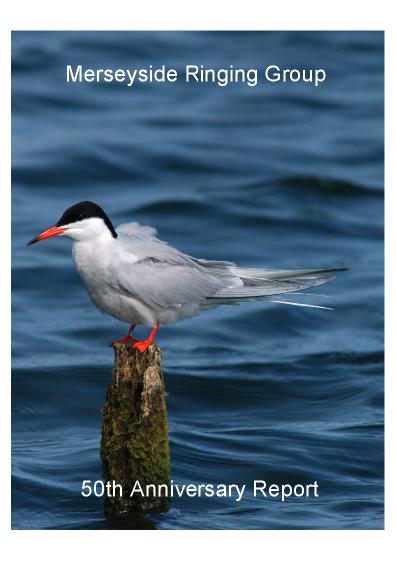 Merseyside Ringing Group was founded in 1954, originally as a partnership by Rob Cockbain and Graham Thomason. In those first fifty years, the Group ringed over 580,000 birds and had nearly 1,500 overseas recoveries. MRG produced a special 50th anniversary report, 88 pages of A4 size, summarising hundreds of spectacular ringing recoveries in maps, tables and text, and some of the papers published by MRG members.
---
CONTENTS
Acknowledgements
Thoughts from the Editor
50 Years – 50 Birds
Maps of recoveries for selected species
Merseyside Ringing Group – a peep into the archives (John Birch and Ray Eades)
Weight variations of Ringed Plovers on the Dee estuary (Ray Eades and Dave Okill)
The Brambling invasion of Merseyside (Rob Cockbain, David Cross and David Norman)
Siskin ringing in a Bidston garden (Tony Ormond)
Birds from the black stuff (Professor David Norman)
The Shotton Tern Colony (Ron Birch)
Pied Flycatchers at Glyn Arthur, 1987 – 1998 (Ed Samuels)
European-African Songbird Migration Network (Professor David Norman)
Waders at New Brighton marine lake, winter 1990-91 (Professor David Norman and Peter Coffey)
Appendix – Selected Controls and Recoveries 1954 – 2004
---
Just four examples from the hundreds of interesting recoveries listed:
Grey Heron (Ardea cinerea)
1280951 1 22.04.90 Oakmere, Delamere, Cheshire 1645km NW
X 04.02.91 Hvassahraun, Gullbringa, ICELAND 64°01'N 22°09'W
The first ever record of a BTO-ringed Grey Heron to Iceland, where the species is a rare vagrant.
Ringed Plover (Charadrius hiaticula)
BB72603 4 21.08.71 West Kirby, Wirral, Merseyside 3330km N
R 23.08.72 Bardsea, Ulverston, Cumbria
+(=M) 02.07.73 Jorgen Bronlund Fjord, GREENLAND 82°10'N 30°30'W
This bird was shot at the nest on breeding grounds in the very far north of Greenland, further north than any other MRG bird has migrated. It was the third Ringed Plover from Britain found in Greenland.
Common Tern (Sterna hirundo)
XR88006 1 23.06.91 Shotton Flintshire 5341km S / 5042km SSW
R 21.11.91 Nr Grand-Lahou, IVORY COAST 5°09'N 5°01'W
VV 29.05.95 Seaforth, Liverpool
// 22.01.03 Nr Freetown, SIERRA LEONE 8°30'N 13°15'W
MRG has three cases of a Common Tern being reported from two African countries, believed to be the only ones in the BTO files. XR88006 was controlled in the Ivory Coast by a British ringer, seen back in the UK and then found in Sierra Leone more than 11 years later.
Sand Martin (Riparia riparia)
E104779 4F 12.07.87 Whitegate, Sandiway, Cheshire 4109km S
X 10.02.88 Foabangou, Segou, MALI 16°14'N 3°08'W
This bird was found towards the eastern limit of their wintering area in the Sahel: from more than one million Sand Martins ringed in Britain and Ireland, there have only been two records from Mali. It was accidentally caught in a fishing net in the Niger inundation zone.
---
An example of the maps of recoveries (for eight species) - Barn Swallow Hirundo rustica:
<![if !vml]>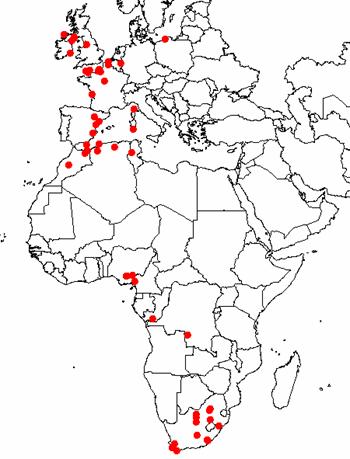 <![endif]>
---
We are very grateful to Steve Young for allowing us to use his photograph of a (ringed) Common Tern Sterna hirundo as the front cover of our report. For more examples of Steve's work, go to www.birdsonfilm.com.