Arctic Redpoll (21 February 2014)
The recently-published 2012 Annual Report of Merseyside Ringing Group records that Quail was the 199th species on the Group's list, and wondered what the 200th would be. This page tells the story of that bird.
On Sunday morning, 17 November 2013, I was ringing on my own when a few redpolls moved around, and I caught three small groups of 3, 4 and 4. In the middle group was the palest redpoll I have ever seen in the hand. I took some notes and put it down as a Common (Mealy) Redpoll but on reviewing my photos that afternoon I wondered if I had missed an Arctic Redpoll of the (Scandinavian) Coues' race (Carduelis hornemanni exilipes). I have never seen Arctic Redpoll in the hand, although I have watched Hoary Redpoll in the field on snowy days in the USA. I am embarrassed not to have considered this possibility in detail at the time, mainly because the rump was not as pure white as I expected for an Arctic. I now know that my expectation was wrong, and also that I crucially missed recording the underside, especially the undertail coverts. Fortunately I had plenty of photographic evidence, sufficient to confirm its identity:
Arctic Redpoll!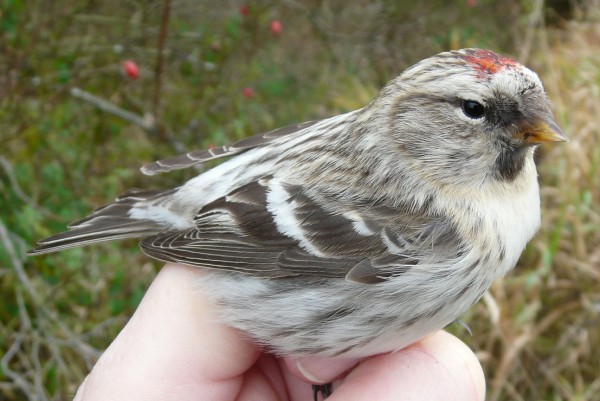 It had a wing of 70.5mm, the same as a typical Lesser Redpoll (and just about the bottom of the range for a Common Redpoll), but it looked bigger, perhaps because it had a longer tail, and weighed 12.5g (with no visible fat), whereas the other ten ranged from 9.5g to 11.0g. Its bill seemed small and short. The red poll patch was small (although of course that can be very variable and this poll is much the same size as the breeding female Lesser Redpoll that I previously depicted on this website). Every feather that on a Lesser Redpoll would be creamy/ buff/ brown, on this bird seemed to be pale grey or white. The flanks were white with some streaking, decreasing towards the tail, but regrettably I did not note or photograph the undertail coverts. In behaviour, this bird called incessantly whilst in the net and whilst being processed, unusual for a redpoll, although to my ears the call did not sound any different from a standard Lesser Redpoll. It did eventually quieten down when I was photographing it.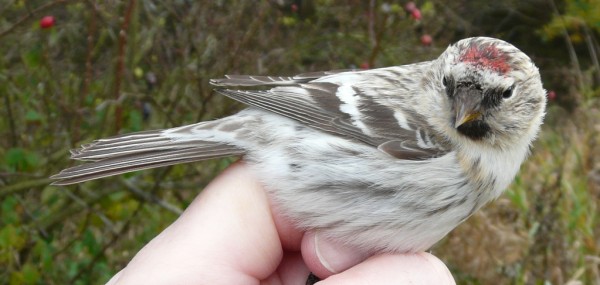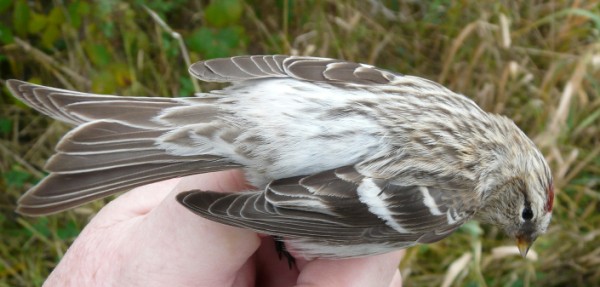 Its short bill showed in comparison with two Lesser Redpolls: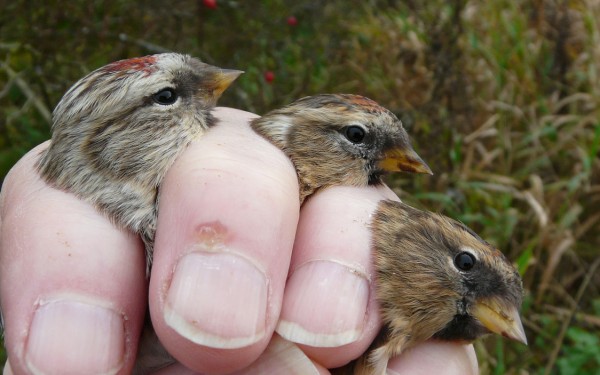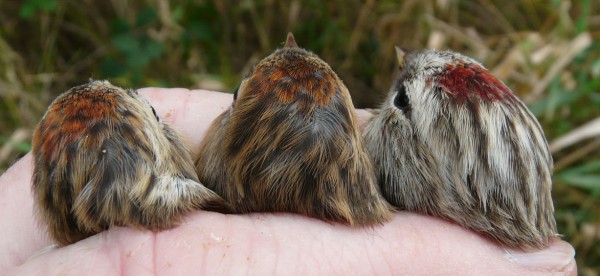 Its comparatively long tail is clearly shown in the following composite image showing a Lesser Redpoll (caught an hour later) which had the same wing length: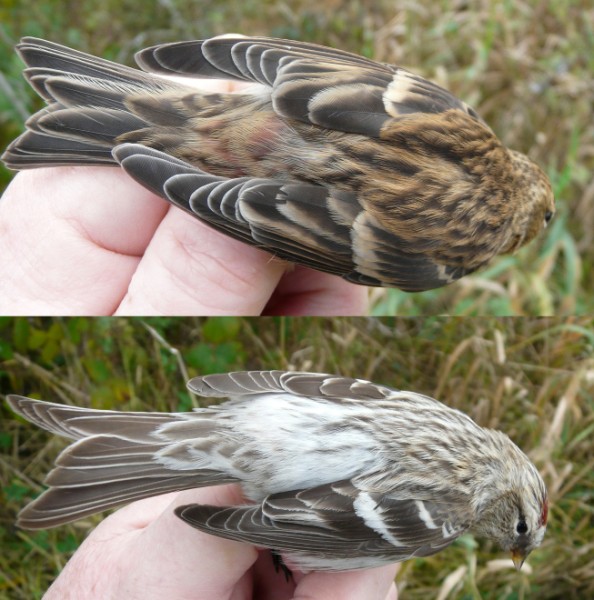 I normally find it very difficult to see a moult limit in the greater coverts of LESREs but this one was easy, as shown in the following photo: 5 ogcs, shorter and duller, with less extensive white tips than the replaced adult-type greater coverts which were obviously darker and glossier. The tertials were already quite worn, much more so than on typical first-year Lesser Redpolls at this time of year.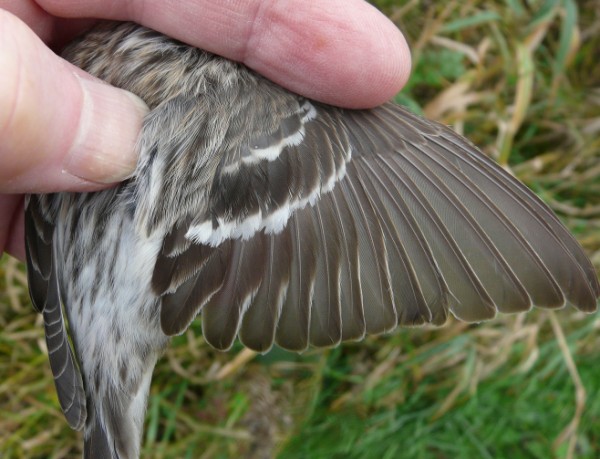 I now realise that this bird fits pretty well with Svensson's depiction (below) of the rump of Arctic Redpolls, presuming that it is an immature female. It was certainly a first-year (Euring age code 3) and the small size suggested female. A wing-length of 70.5mm is the smallest in a sample of 84 exilipes (47 males and 37 females) quoted by Marc Herremans in his paper "Taxonomy and evolution in redpolls" Ardea (1990) 78: 441-458.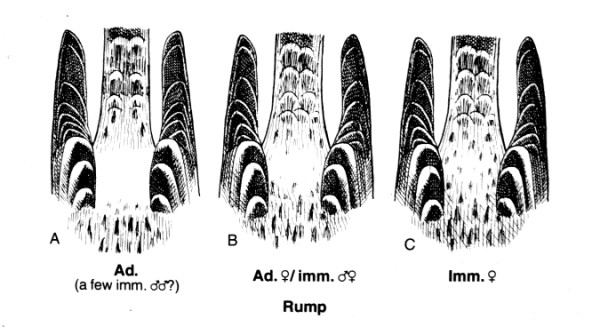 The only Arctic Redpolls previously recorded in Cheshire and Wirral were one in December 1995 and two in January 1996, at three different sites, with none since. Common Redpolls are also county rarities so I asked Hugh Pulsford for his opinion, as County Recorder, and sent my description and photos to Chris Batty as an MRG colleague but particularly as a member of the BBRC who has a special interest in redpolls. Chris replied including the comments In the case of your bird, we cannot see the longest undertail coverts, and the rump is undeniably streaked across its length, so it would fail as a Coues' Arctic on both criteria. However, I am confident your bird is a Coues' Arctic Redpoll, and I would accept it as such on the basis that the pallid appearance of the bird is beyond the limits of Mealy Redpoll; especially the nape, mantle and scapulars that are uniformly broadly fringed white without any significant brown tones, the large extent of white rump reaching the smallest tertials (even if it is streaked), and the white forehead. First-winter redpolls are described as being more streaked than adults, although I am not sure from where this fact is sourced. Of unknown significance, but the slight sandy wash below the cheek and bib is an appearance I associate with Arctic Redpoll.
As luck would have it, the December 2013 issue of British Birds contained a lengthy article "Redpolls: a review of their taxonomy, identification and British status" British Birds (2013) 106: 708-736 by Andy Stoddart, so I sent him a draft copy of this page with all the images, to which he replied What a lovely Arctic Redpoll! It shows all the necessary features and although the rump might not be to some people's taste, it's actually well within the range of variation. A great record for Cheshire!
A complication, which somewhat distracted me from this bird, was that one of the others caught at the same time looked like a standard Lesser Redpoll apart from having a white rump.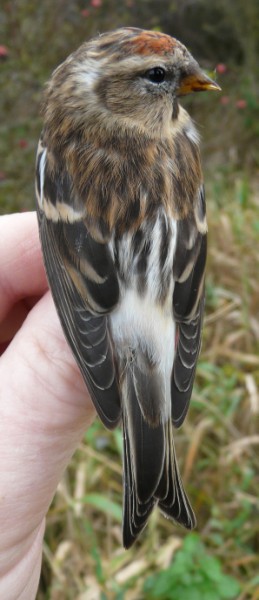 This one (an adult female) also had three all-white greater coverts, one on the right and two on the left wing, and I wonder if she has some colour deficiency, perhaps from old-age, as often seen with Blackbirds. If you're just looking through a flock, trying to find a redpoll with a white rump, this could fool people!

The three birds whose heads are depicted above were actually this white-rumped Lesser Redpoll, a 'normal' Lesser Redpoll, and the Arctic Redpoll.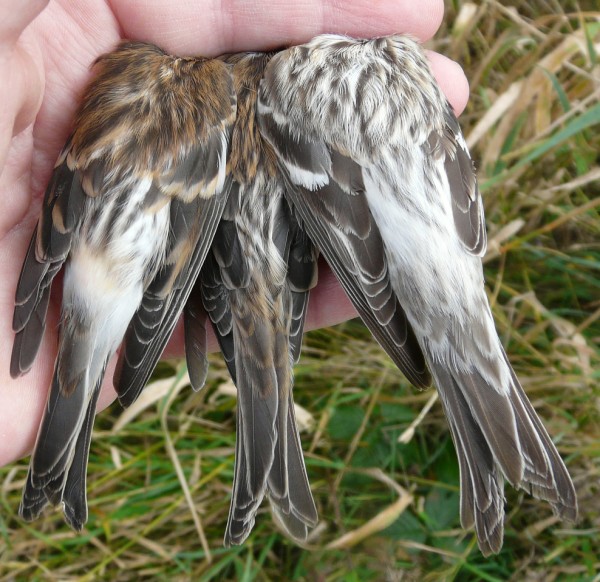 Or, with their mantle and rumps concealed: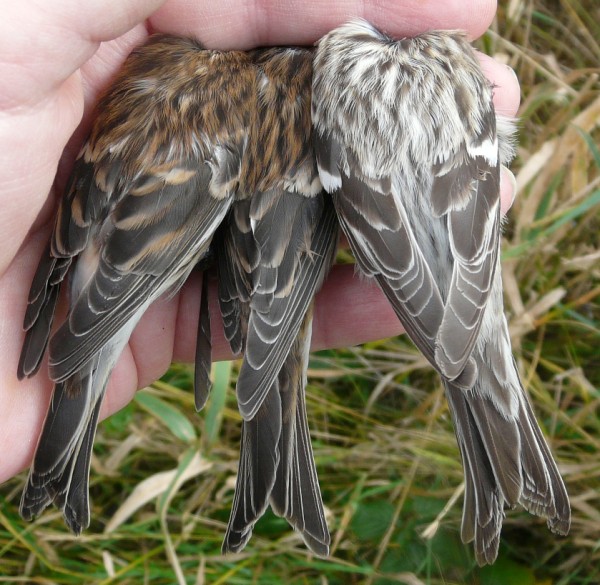 With hindsight I am now feeling that the identification seems obvious, but it's a bit different having had several days to think about it and do some research, rather than a few minutes with birds in the hand. This bird looks much more like a classic Arctic Redpoll than most of the supposed ones that are photographed and depicted elsewhere on the internet.
I'm sure this is not the way that we would have wanted to bring up the 200 species, preferring one seen by lots of us, but I hope that MRG members will be able to enjoy this one second-hand through this article.
I don't often ring a new species nowadays but caught three in seven months in 2013 .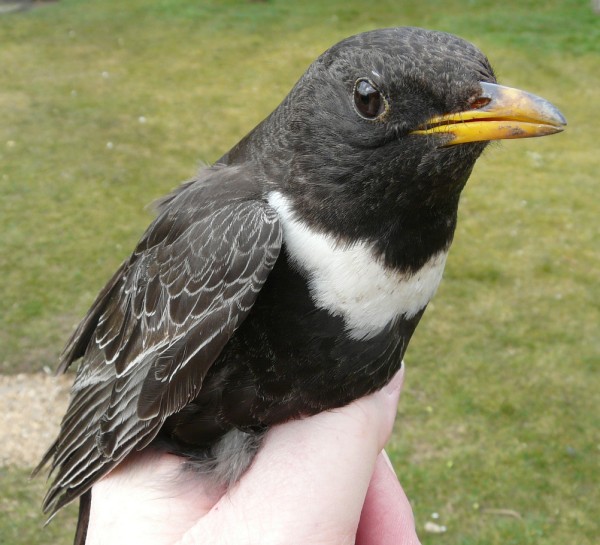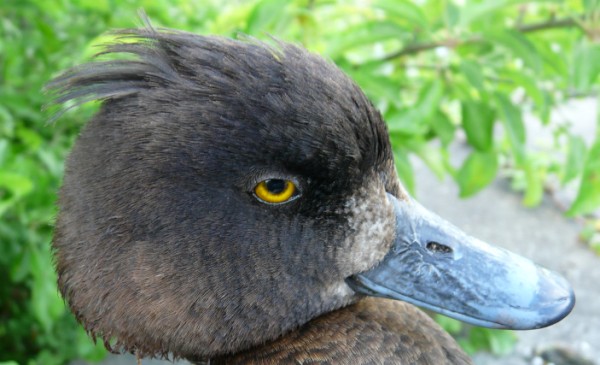 David Norman