Unusual moults (2 July 2005)
No sooner had I commented ('bird in the hand' - feather wear (22 June 2005)) that more examples are now being found of adult Garden Warblers Sylvia borin moulting in Britain, than one came my way at Woolston on 2 July 2005, the first that I have ever seen: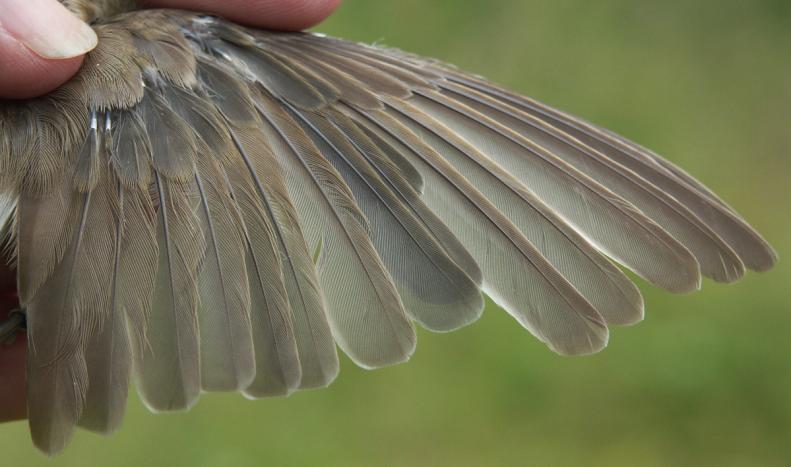 Remembering the standard moult score system of 0=old; 1=in pin; 2=up to one-third grown; 3=one-third to two-thirds grown; 4=two-thirds to fully-grown; and 5=new fully-grown feather, I coded this one as (starting with the tertials and moving outwards) 0 1 0 | 0 0 0 0 0 0 | 4 4 3 0 0 0 0 0 0 0, or, in moult recorders' shorthand 011101|06|423107. It was symmetrical on both wings, apart from the central feather of the tertials (s8), the old feather still being present on the left wing: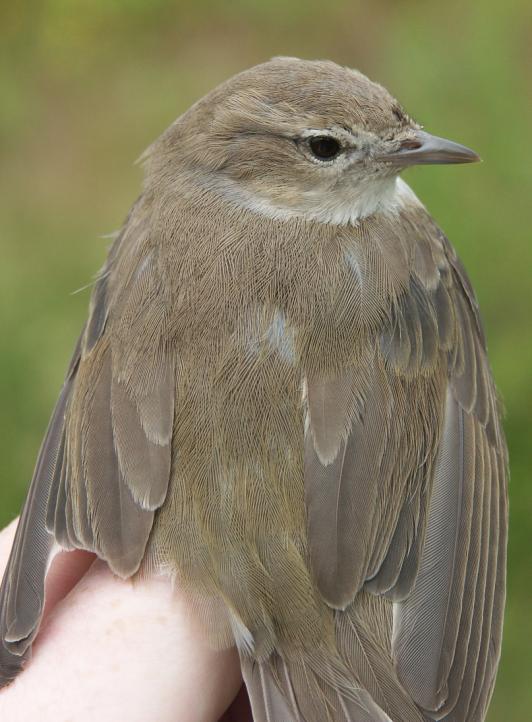 The bird appears to be following a normal moult sequence. The above images show that it was moulting each primary covert along with the corresponding primary, and the greater coverts en bloc. It had just started its tail moult by dropping the central pair of rectrices. The tail feathers showed the classic broad, truncate shape characteristic of an adult warbler: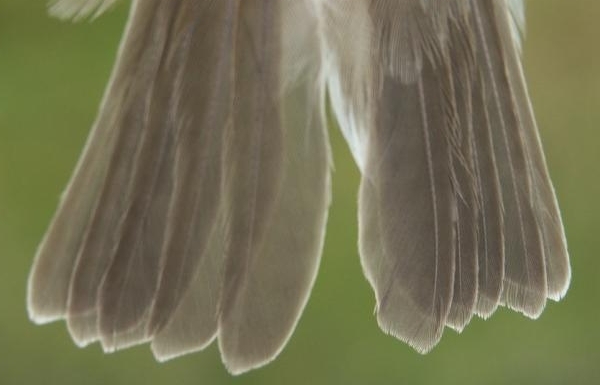 Is Garden Warbler moult in Britain another effect of climate change? Research by the BTO shows that many species are nesting earlier, so why not moult earlier? Garden Warblers moulting in winter in central Africa take longer over their moult (70 days) than their close relatives, Blackcaps Sylvia atricapilla, who moult in Britain before their autumn migration (50 days). It would be fascinating to catch this bird again to know how quickly its moult progresses.
---
Also on the same day, an adult male Willow Warbler Phylloscopus trochilus was caught that appeared to be moulting more slowly than normal, and is perhaps going to interrupt its moult: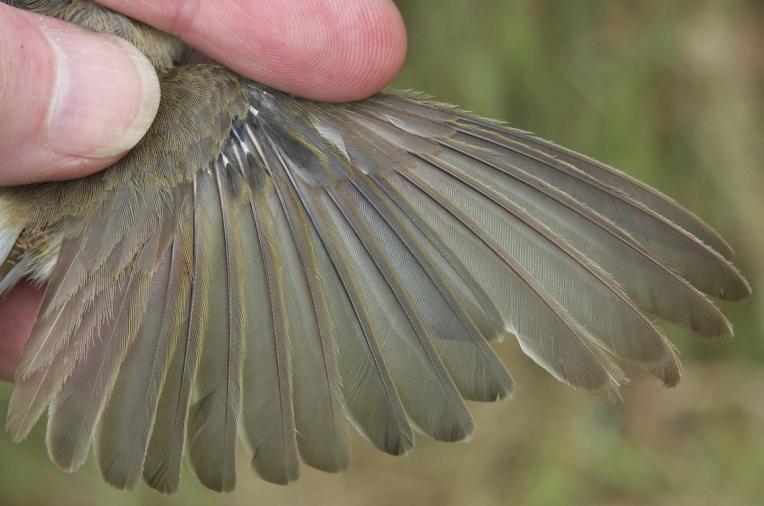 A bird at this stage of primary moult, with a score of 03|06|524206, would usually have dropped its old tertials, and its tail, which is still complete: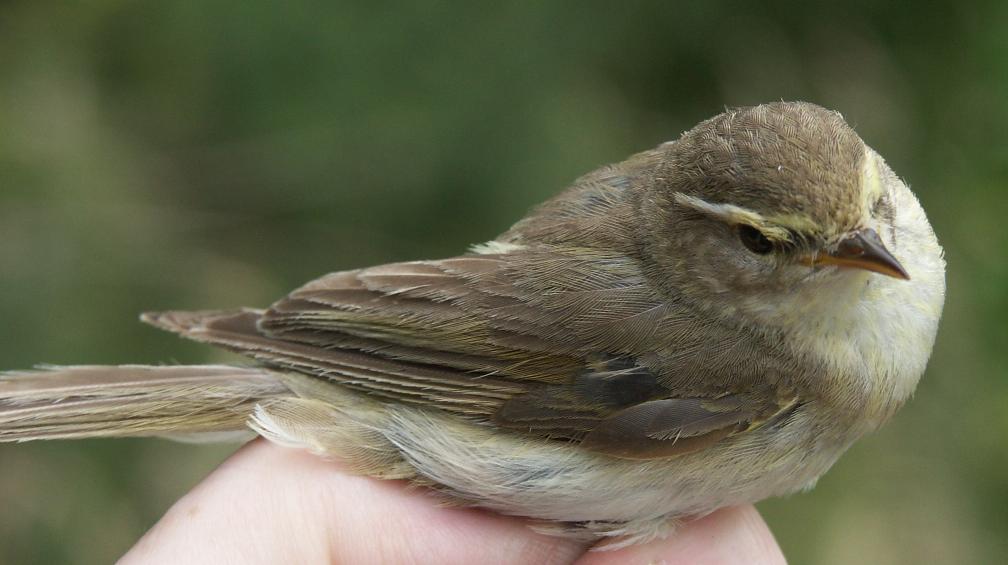 It is also odd in retaining (so far) four greater coverts (the innermost only just visible in the above image of the wing). The low intensity of this moult can be judged in comparison with a typical Willow Warbler caught almost exactly two years ago, scored as 23|041121|514231211104. The photograph of this bird, ringed on 5 July 2003 and depicted previously on these pages, is repeated here: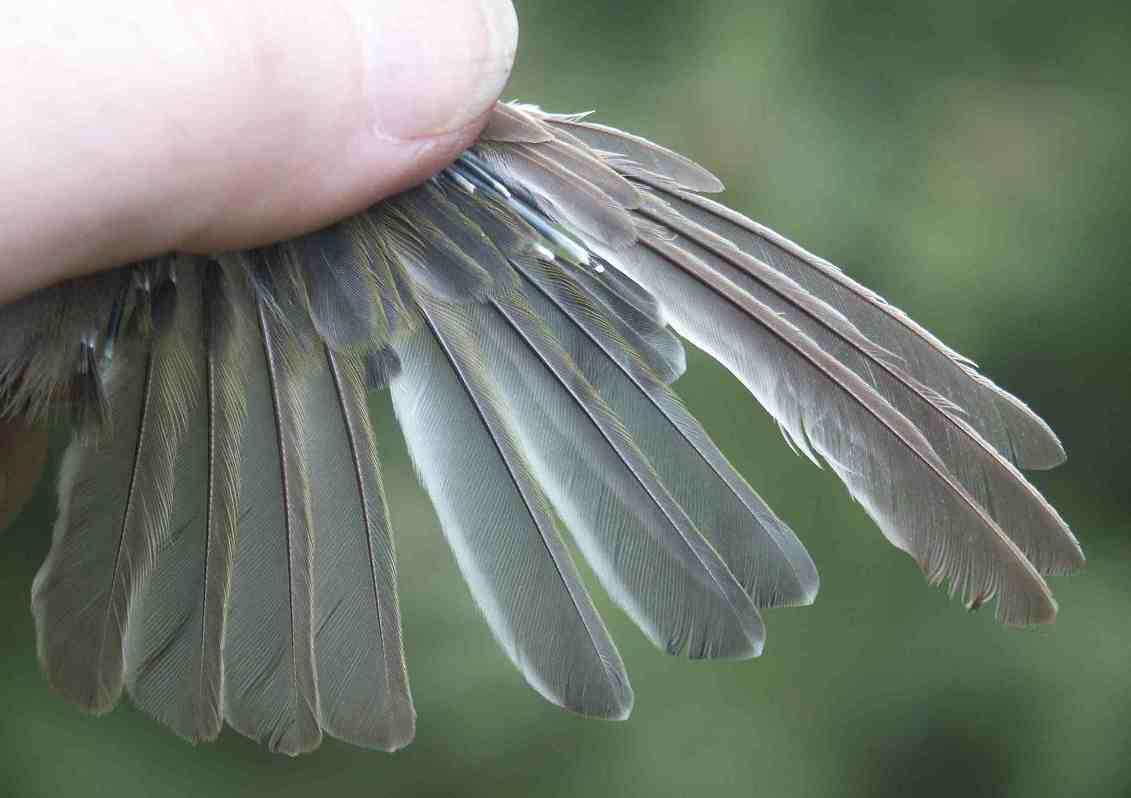 This is another individual whose recapture on a subsequent visit will be eagerly awaited.
David Norman.